About Us
Whether you are a modeler wanting to build a museum quality display airplane, a home builder wanting to build your own full-scale WW1 replica or whether you just want to own a truly accurate set of historical drawings, Replicraft plans offer the finest, most accurate and most complete set of WW1 aircraft plans available.
You can build an aircraft the way it came off the factory floor in WW1. These are true master plans created by Jim Kiger!
Image: Jim (left) with master airplane craftsman Roger Freeman (right) who built the detailed and complex S.P.A.D. XIII from Replicraft plans.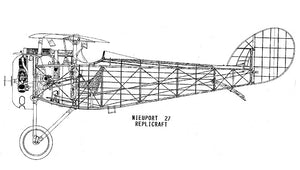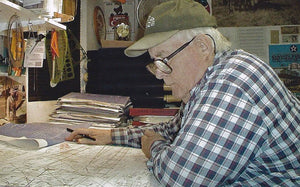 About Jim Kiger & the Replicraft plan sets
Replicraft plan sets are the result of a modeler of some 50 years becoming very displeased with the so-called "Master Plans" available.  "I decided if I cannot rely on the accuracy of existing plans, I should make my own.  But why do anything if you can't do it much better?" asks Jim Kiger. 
"I feel I have developed several plan sets that will never be equalled.  I did my own research and used only the most authentic information available.  Most of my plan sets are 100% from original factory drawings, construction and rigging manuals."
"On occasions where information was missing it was reverse-engineered from inspection and measurement of authentic WW1 aircraft.  Indeed, these sets are the equivalent of having a full set of factory drawings in hand. The number of full-scale replica's built from Replicraft plans testament to that!"  
"To my knowledge there is no other source of drawings this accurate and this complete. I have never had a dissatisfied customer. On the contrary, I have lost count of the compliments about how beautiful the drawings are."